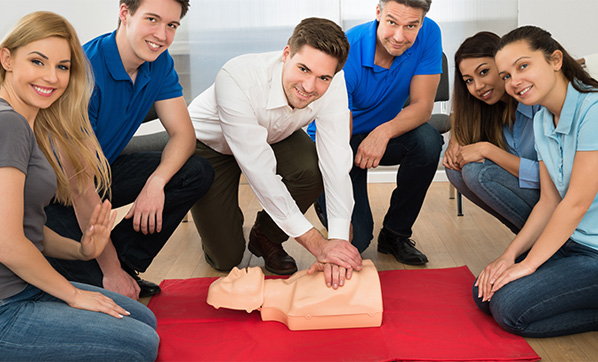 Rapid Response courses are St. John Ambulance First Aid and CPR courses that meet Alberta Occupational Health and Safety requirements and are taught by certified instructors. We ensure each course is taught in a thorough, yet casual and fun manner. All students receive a training manual and, upon successful completion of the course, students will be awarded a St. John Ambulance certificate. All First Aid certificates are valid for 3 years, while stand-alone CPR course certificates do not expire, although annual re-training is recommended.
Workplace Course Information
All courses are taught on-site at the students' place of employment to minimize down-time for company employees. Please review the list of courses and determine which first aid or CPR course(s) you want taught to your employees. If you are unsure about which course(s) your business requires to meet government regulations, we can assist you on choosing the appropriate course(s). Once the course has been determined, contact us at info@rapidresponsefirstaid.com or phone (403) 630-4869 to determine which dates are suitable for everyone. Please note that the duration and cost is different for each course.
Client (Employer) Responsibility
It is the Client's responsibility to remind their staff (students) that are taking the course to arrive on time, bring a pen, and wear loose, comfortable clothing. The Client is required to provide a room with tables and chairs that has ample space for the students to practice their skills. If a room is not available at the place of business, Rapid Response may be able to provide a room at an additional cost to the Client.
GENERAL PUBLIC COURSE INFORMATION
Rapid Response offers First Aid and CPR courses on various dates and locations throughout the city. For information on dates and locations, or to register for a course, please email info@rapidresponsefirstaid.com or phone (403) 630-4869.
For information on individual courses, click on the "Courses" tab at the top of this page and choose one of the courses listed on the drop-down menu.